The?Bat Auto Phone Mount is definitely the coolest mobile phone holder for cars! Not only will it hold your phone, but it will also serve as a unique decorative piece.
Having a home button and charging port reserved, you can feel free to charge your phone without waking it up.?Non-slip silicone claws?are equipped to prevent?scratching your mobile phone, and?soft pad aims?to reduce the effect of road vibration.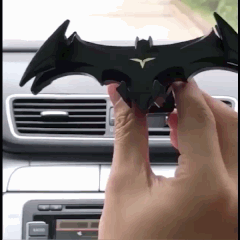 This?Bat Auto Phone Mount?is suitable for use on horizontal air vents. Free your hands while driving, put in or take out your smartphone with ease!
It costs $33.88 in Amazon

HIGHLIGHTS:
Easy to use?? You can put your mobile phone using just one hand
Automatic clamping?? Stable and secure, easy to use
Soft pad?? Reduce the effect of road vibration
? Reserve Charging Port:?Allows you to insert charger to a smartphone without blocking your phone charging port.
Reserved HOME button & charging port?? Doesn?t affect charging and use
Anti-scratch protection?? Won?t scratch your phone and dashboard due to the soft, non-slip silicone craws of the holder
2 adjustments available?? Choose according to your air vent thickness